Introduction: Peter W.B. Oomens, posturologist (retired) and manual the
rapist. 
Posturology (postural therapy from the feet, on a neurophysiological basis) influences the human balance by changing the pressure under his feet. Just like balancing a wobbly table.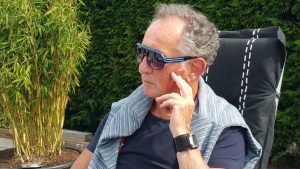 Simple and logical to watch, complicated to explain. With more than 35 years of experience and twenty years of practice in my Practice Integral Posture Therapy in Doorn (Netherlands)), I  did help many patients suffering from (low) back pain and other posture related complaints. After finishing my practice I have been several years president of the Dutch professional association.
What is posturology?
A multidisciplinary (physical) approach, which has to result in a careful diagnosis and treatment. Which means that a practitioner, in consultation with the patient, can decide to cooperate with another discipline. This requires the willingness of practitioners, in the interest of the patient, to look beyond their own boundaries.
At the moment I am doing literature research on posturology about the many systems, for example RELATIONSHIPVISIONPOSTURE, influencing the posture. Our body knows many of these cooperating, interactive systems. In addition to profession-related articles, I have written a number of booklets. I also have been guest lecturer in physical therapy.